The Story
From PageSix~
Perri "Pebbles" Reid — former manager of the girl group TLC — is suing Viacom for $40 million over the movie "CrazySexyCool: The TLC Story."
Reid claims in Atlanta federal court that the 2013 VH1 movie portrays her "as a conniving and dishonest business woman who hoodwinked three innocent girls and exploited their talent for her own personal gain."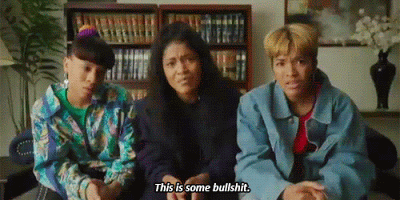 An R&B singer who has herself sold over 4 million records, Reid says in the suit that Viacom "ignored fundamental canons of journalistic and literary conduct by publishing false and defamatory accusations with actual malice."
The suit filed late Friday states that, contrary to what VH1 viewers saw, Reid never controlled TLC's lawyers or accountants, never withheld contract terms from TLC and always paid the group what they were owed.
After selling 11 million copies of their 1994 album "CrazySexyCool," TLC filed for Chapter 11 bankruptcy protection.
Record execs said TLC only filed in order to void their contracts, but the girls, who sued LaFace Records and Pebbitone, Reid's management compancy, claimed they were paid only $50,000 a year each in 1993 and 1994.
A spokesperson for Viacom said, "It's our policy not to comment on matters in litigation."
The Q
It must be some typa light skin Black Mass going on this week because all the yellow sorceresses have come out the gates swinging.  First Donald Sterling's high yella bed wench throws black social media into a vortex, and now here comes Pebbles coming for some more undeserved TLC coins.
Pebbles has been feeling some typa way ever since the biopic aired on VH1 last October.  Her and her thug daughter went on a media tour threatening to sue and beat up whoever they had to to clear their good name.  They waged a very public war with Chilli and Tboz, but the suit goes after the big bucks…Viacom.
Just the wording of her lawsuit saying the movie presented her "as a conniving and dishonest business woman who hoodwinked three innocent girls and exploited their talent for her own personal gain." is laughable.  Were they lying doe?
I'm sure Pebbles wasn't here for her portrayal on the big screen.  I'm just not sure how she thought she should have been represented.  This is her legacy. Pebbles will always be known as the yellow witch who made it rich off of TLC while they went penniless.  There is no way that she is ever going to overcome that reputation.  Which makes it obvious that this lawsuit is about more money and not clearing up her reputation.
Being the opportunist that she is, no one is surprised that she is using this movie as a way to get some more money.  We get it.  It's the American way.  I'm just kind of worried about her.  I think she's setting herself up for a major failure here and Viacom is going to be alot tougher to bully around than T-Boz on her death bed and there's a show to do.  
You have to admire her courage and light skin privilege, but she may be setting herself up for the seats she should have taken after that movie!
What do you guys think?  Do you think Pebbles can use light skin magic to come out on top once again!
Vitamin Q (VQ) is a writer, blogger personality, and a social commentator. He irreverently analyzes how social issues affect individuals in modern society by using sarcasm, humor, and intellect, creating his own unique blend of Southern SHADE, purely for the purpose of helping like minds cope. "I say it so you don't have to!"
Tags:
90's music
Atlanta
Bankruptcy
chilli
clive davis
CrazySexyCool'
entertainment
entertainment news
hollywood
hollywood gossip
L.A. Reid
lawsuit
left-eye
music
new jack swing
Pebbles
Perri Reid
Tboz
The TLC story
The VitaminQ
TLC
VH1
Viacom