Rihanna's topless photoshoot with French magazine, Lui, has been all the buzz ever since we got the behind the scenes shots a couple weeks ago.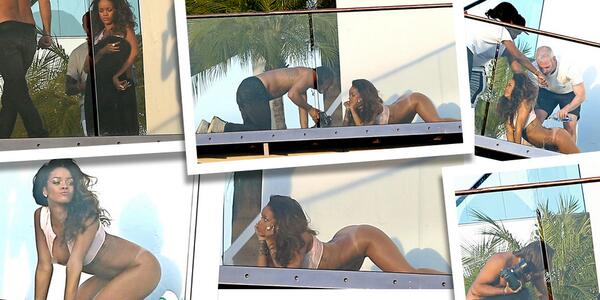 Well the final photos are here and, as you can see from up above, she's offering seats.  I'm not saying that Everyone has to take one, but there's also no need to stand if this is all too much for you.
I'm trying to blog right now while looking at these pics and…..what is there to say?  Are there words?  Is there any question of can she Come Through?
If there's one thing we can all agree on is that Rihanna don't give no FuQs.  In fact, I don't think she would know what a FuQ looked like if she came across it.
Photographer Mario Sorrenti found all of Riri's best angles at her insistence that her tan lines be showcased.  We're told she bakes in the sun for hours to get them just right. (She's so dedicated)
Everyone is talking about her topless pics, but it's that bottomless pic with her on all fours that's going to be her legacy.  
She posted the pics on her infamous Instagram earlier and later Instagram snatched her wig and threatened to take deactivate her account decided to take them down. 
This Spring was been all about surfboardts, Wataw melons, shower rods, and topless photos.  Can't wait to see what all the girls have planned for us this summer!
Qmunity which Rihanna shot is your fave? (I'm going with the cover.  It's something "classic" about it)
Vitamin Q (VQ) is a writer, blogger personality, and a social commentator. He irreverently analyzes how social issues affect individuals in modern society by using sarcasm, humor, and intellect, creating his own unique blend of Southern SHADE, purely for the purpose of helping like minds cope. "I say it so you don't have to!"
Tags:
entertainment new
instagram
lui
Lui Magazine
Mario Sorrenti
rihanna
Rihanna Fenty
The VitaminQ
TMZ
trending